September 1, 2009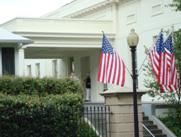 Intellispring Technologies Inc. President and CEO Trez Brown met with Special Assistant to the President for Science, Technology, and Innovation policy, Dr. Susan Crawford. The discussion centered on emerging trends and policies in technology including 4th Generation (4G) broadband and virtualization being key topics.
"The demand on user data rates keeps increasing, which fuels the development from100 Mb/s to 1 Gb/s for the end user. Quality of life and modern economy depends more and more on the availability of ubiquitous low-cost broadband access. Fourth generation is the logical extension of the thinking behind 3rd Generation technology, says Intellispring CEO Trez Brown".
Intellispring is a registered trademark of Intellispring Technologies Inc. All other brands and products referenced herein are acknowledged to be trademarks or registered trademarks of their respective holders.
Intellispring Technologies Inc.
Our experts are ready to help answer your questions, provide a quote or schedule a meeting.
Call: 678.291.0711 | Email: sales@intellispring.com | More Information | Request a Quote