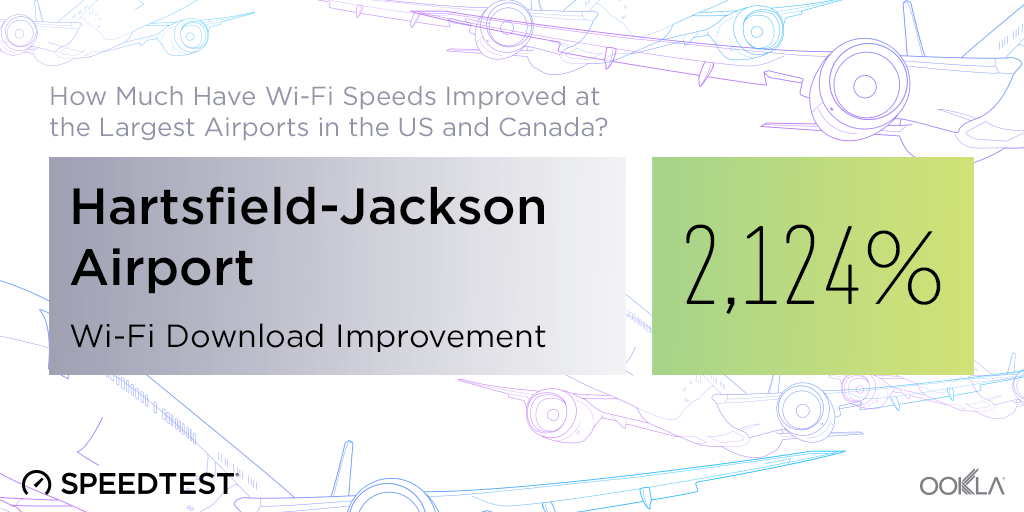 September 1, 2018
Hartsfield-Jackson International Airport saw the largest one-year improvement in speed
If you're looking for an airport with quick, complimentary Wi-Fi jump online at Atlanta's Hartsfield-Jackson Airport with world class infrastructure and speed.  These speeds put Hartsfield in the Top 3 in speed at all airports in the country.  Intellispring Technologies Inc. recently completed design and installing new Wi-Fi at the entire Hartsfield-Jackson International airport.   Hartsfield–Jackson Atlanta International Airport has terminal and concourse space totaling 6,800,000 square feet (630,000 m2).  The world's busiest airport—Hartsfield-Jackson Atlanta saw the largest one-year improvement in speed, jumping to an average of 80 mbps according to the survey data.
According to Sharon Heard-Brown, Assistant General Manager of IT Operations at Hartsfield-Jackson Atlanta International Airport, the improvements we saw are related to recent implementation of approximately 1400 Cisco 3802 access points which use 802.11ac Wave 2 and m-Gig technology. This supports a higher wireless network speed and more robust wireless coverage throughout the passenger terminal. They're also using four Cisco 8540 next-generation Wireless LAN Controllers, operating in high availability mode and 3850XU switches with UPOE capabilities to support the 3802 access points at a network speed of 5.5G. The 3850 switches also allow for 10G uplinks to the distribution layer of the network. And three 20G circuits from the local carrier help facilitate all that passenger traffic. Intellispring is utilizing is professional Wi-Fi Site Surveys in part of ongoing efforts Atlanta is making to fine-tune their network.
Intellispring is a registered trademark of Intellispring Technologies Inc. All other brands and products referenced herein are acknowledged to be trademarks or registered trademarks of their respective holders.
Intellispring Technologies Inc.
Our experts are ready to help answer your questions, provide a quote or schedule a meeting.
Call: 678.291.0711 | Email: sales@intellispring.com | More Information | Request a Quote