August 1, 2013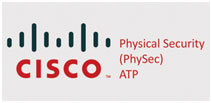 Intellispring a leading consulting solutions integrator announced today that they have achieved the Authorized Technology Provider (ATP) for Cisco Physical Security. Intellispring has met rigorous Cisco Certified personnel levels required for the ATP – Cisco Physical Security. This designation directly supports our initiative to support our nation Department of Defense.
The ATP Program is an invitation-only program. To participate in the ATP Program, partners must already possess relevant job/industry/market credentials in the ATP focused technology. Before engaging with potential ATP partners, a Cisco sponsor or account manager must proceed to the ATP Instruction Page for nomination, approval, and partner invitation instructions. Participation in the Cisco ATP program allows Cisco channel partners to develop and demonstrate expertise in specific advanced or emerging technologies through specialized training. Qualified Cisco ATP partners (those meeting all program requirements) are recognized on the Cisco Partner Locator, allowing them to differentiate themselves from competitors and providing the opportunity to enter into new markets.
Intellispring is a registered trademark of Intellispring Technologies Inc. All other brands and products referenced herein are acknowledged to be trademarks or registered trademarks of their respective holders.
Intellispring Technologies Inc.
Our experts are ready to help answer your questions, provide a quote or schedule a meeting.
Call: 678.291.0711 | Email: sales@intellispring.com | More Information | Request a Quote